About the Rathkeale Community Council
The Rathkeale Community Council provides buildings and services free or at below-market-rates to select organizations, manages the St. Patrick's Day parade, lights Main Street at Christmas, maintains the playground, plants flowers and cuts grass. It aspires to advocate on behalf of the community, petition for support, and organise more projects and events.
Pat Neville is Chairperson and Vice Chairperson for Place Development. Derek Downes is Vice Chairperson for Economic Development, representing the favoured Business Constituency. Seamus Hogan is the Community Liaison Officer engaging with similar minded organisations and voters. Valerie Foley is Vice Chairperson for Tourism and Events. Podge Doherty is Vice Chairperson for the Treasury. Triona Doody is Assistant Vice Chairperson for the Treasury. Denis Robinson is Assistant Vice Chairperson for Traveller Interests. Tracey Bourke is Secretary. The Council is open to adding a Vice Chairperson for Traveller Interests representing the favoured Traveller Constituency and a Board Vice Chairperson. The Council's Constitution (pdf) was updated in April 2023.
As of 19 September 2023 there were 23 members of the Rathkeale Community Council that include: Kristina Bako, Tracey Bourke, James Chawke, Podge Doherty, Triona Doody, Derek Downes, Lorraine Dunne, Peter Donovan, Mo Foley, Valerie Foley, Ray Hogan, Seamus Hogan, Eina Jones, Billy Kerins, Bernie Naughton, Pat Neville, Dave Noonan, Celia O'Connell, Damien O'Grady, Olga O'Mahony, Denis Robinson, Gus Ryan, and Treasa Steele. Trustees (4) include Brian Dillon, Peter Donovan, Joe Dunleavy, and Pat Neville with Constitution allowing 3 more.
Rathkeale Community Council Facilities:
The Community Centre, which is owned by Limerick City and County Council, is subleased to the Brothers of Charity (upstairs) and An Garda Síochána's Foróige program (downstairs.) It also accommodates Rathkeale's Fáilte Ireland Tourist Point in the Welcome Centre (closed), the Rathkeale Community Council office and the Community Employment Programme. The hall is occasionally used for community meetings and celebrations.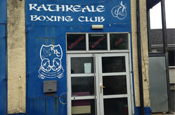 The Old Creamery is leased exclusively to Scouting Ireland (downstairs) and the Rathkeale Boxing Club (upstairs.)
The Youth Centre is leased to Limerick Youth Services. It also accommodates the Rathkeale Snooker Club.
The All-Weather Soccer/Basketball area is adjacent to the Youth Space.
The Playground in St. Mary's Park is open and maintained for public use.
The sale of donated goods at the Community Charity Shop helps fund the Community Council.
Dohyle Lough Marina and Pool is closed to the public.